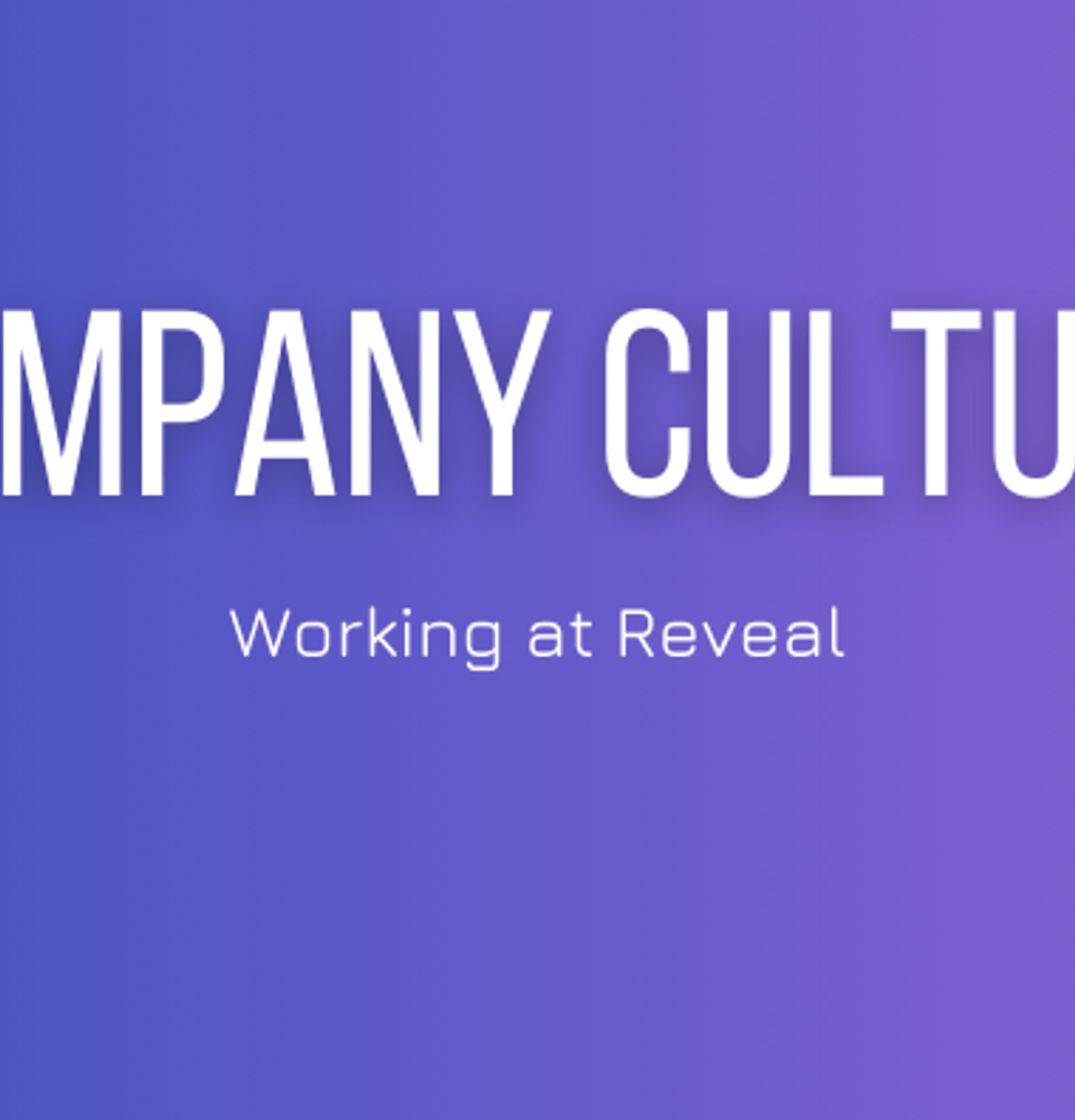 Developing Company Culture
Company culture is a challenging concept for a number of reasons. It is intangible and for many hard to define. We're in tech, which means everything has to have data behind it. But how does one "data'' something so abstract? And what is culture anyway?
For the year of 2022 the loose definition of culture we've had at Reveal is "A standard of behavior and values that are upheld companywide."
Serendipitously, a far better definition of culture appeared in the Harvard Business Review as we were preparing for the composition of this article. In "The Leader's Guide to Corporate Culture," they write:
Culture is the tacit social order of an organization: It shapes attitudes and behaviors in wide-ranging and durable ways. Cultural norms define what is encouraged, discouraged, accepted, or rejected within a group. When properly aligned with personal values, drives, and needs, culture can unleash tremendous amounts of energy toward a shared purpose and foster an organization's capacity to thrive.


Culture can also evolve flexibly and autonomously in response to changing opportunities and demands. Whereas strategy is typically determined by the C-suite, culture can fluidly blend the intentions of top leaders with the knowledge and experiences of frontline employees.

We weren't too far off in our version, but, using this far better definition, we'll share with you the evolution of culture at Reveal, how it came to be, and what next steps we're considering.
* * *
The Bad Reputation of Company Culture
About a year and a half ago we started having the culture conversation at Reveal. During one of the conversations with our CEO and co-founder he said he just didn't want a company who had empty words thrown around. He didn't want a bunch of "n'importe quoi"—nonsense for those non-french speakers.
His concerns were many. We were a small company. We needed to be able to pivot and grow. He didn't want a bunch of words limiting who we were going to become.
But as the HBR definition suggests—culture is flexible. Flexibility was not necessarily the word we used when thinking about culture but it was something that we agreed we needed to be able to expand.
Another fear that was expressed was the cult mindset. So many companies are notorious for making their workplace appear to be more than a place of employment in an effort to make their employees feel more invested in the workplace / lose all sense of boundaries to overwork themselves / both. They use terms like "family," and their team members treat their corporate world more like a religion than a business.
This was not the direction we wanted to go in. Over several conversations the decision was made that we would loosely embrace a set of values to avoid blurring the lines of work and life, but to establish some cohesiveness before we became too big.
* * *
Who Decides Company Culture
Even before we had an HR team we knew that our company culture was to be defined by those who made up the company—our people. We decided that we would go on our first offsite and that the primary focus would be team building and establishing our values.
There are several exercises that leaders and teams can do to determine their values or to establish the foundation of a formalized culture. The challenge with this approach is that one person within the team has to be the facilitator. And, if you've ever been a bride without an event coordinator or at a foreign museum without your native language subtitles you know that sometimes investing in a guide is worth the money. So that's what we did.
* * *
Establishing Company Culture
Phase 1 - What are our values
On Thursday, November 25th, 2021, 24 team members of Reveal piled into 6 cars and drove to a small town outside of Paris. With the help of a Culture Consultant we collectively worked in teams to define four core values. Those values were:
Empathy
Adaptability
Optimism
Determination
In this workshop, we gave examples of how we embodied these values on a daily basis from individual contributors to leadership and across each team. We also shared how we could improve globally. We brainstormed what we could implement to ensure we continued to embody this version of who we felt we were.
Often, once brainstorming begins the hope that one feels is often met with doubt. For so many, the high after a team building can result in lip service. Plans are made but nothing comes from them. Usually this happens because it is no one's responsibility. What happened for us was not lip service but a slow roll out which, for a startup with a million priorities in a fast paced industry, is not surprising. The key, for us, was to make sure we were still moving forward. Small steps lead to big moves.
In the first 7 months we didn't reference the values directly on a regular basis. We didn't repeat the words in emails or use them regularly in meetings. In retrospect, this was not a terrible approach. In fact, it may have been a good idea (had it been intentional) because what we did was what really mattered. Echoing the intentions of our CEO from the beginning—no nonsense, no binding agreement, no cult we did what we knew how to do best—act.
We made improvements to ensure our communication was efficient and effective. Then we made an HR department and things really started to accelerate.
Phase 2: HR You Happy Now
We gained our Talent Acquisition Manager in January of 2022, our Head of HR in February 2022, and our People Experience Manager in April of 2022. With their powers combined the company over doubled in a matter of months, and with that the importance of the company culture became reinforced.
When there is an acceleration of any sort it's normal that a company will feel growing pains. There's reorganizing, there's reprioritizing, there's change. Collectively, the HR team had received a verbal consensus that the teams were feeling satisfied. However, this wasn't enough. There needed to be insight and data to show what they were thinking, how they were feeling, what they wanted, and what they didn't want. There needed to be a temperature check.
Phase 3 - The Values Evolve
An Employee Net Promoter Score (E-NPS) and survey was launched in July. This survey gave incredible insight into the different perceptions and different ideas of our newly expanded team. What the HR team heard was right, the team members were incredibly happy giving the company a score of 9/10.
Understanding that our culture would likely change in reflection to the individuals changing we decided to also include in the survey the question, "How would you describe the culture at Reveal." Low and behold the results were:
Empathy
Adaptable
Optimistic
Determined
Ambition
Mind you, we did not use these words in practice. We did not openly spread the message like wild fire to the new team members. We just continued on our path, improving daily and iterating as necessary. The benefit of our loosely embracing our values was that they remained consistent across the board. And with the expansion of our team we were able to gain a fifth value: Ambition.
* * *
Hard Lessons and Future Phases 
There have been some challenges we've experienced. No company is perfect, and we don't pretend to be. We can't, it counters the value of determination for continued improvement. We admit our mistakes and we learn from them. One challenge, as you might expect, was the rate at which we grew. Not everyone who joined stayed which is something that happens to all companies. At Reveal, we took these losses as an opportunity to improve.
The people we lost, we realized upon reflection, were all a result of being bad culture fits. And, in an effort to iterate and learn from our experiences we began sharing examples of what embodying the values looked like during onboarding. The emphasis being on the behaviors that each word expressed and not necessarily the words themselves. What we've seen since sharing this more widely from the beginning is a greater intrigue in developing our company culture and a continued cohesiveness amongst the company even in spite of the timezone and cultural differences.
As we look down the road for 2023 we see a different tech environment than the one we saw at the beginning of this year. The market is changing drastically and with that comes new challenges.
We will continue to listen to the people who compose the company. It is thanks to them that we have come so far already. We will also continue to see how and where we can expand. Not necessarily in headcount, but in leveraging the environment that the headcount comprises to serve them.
We will begin measuring culture similarly to how we measure performance. What we know that the only way to improve is through data and the only way to have data is to measure.
We hope to find unique and exciting ways to bolster our team members and allow them to see how they are contributing to the success and growth of our company. We hope to serve as a resource for other growing companies and to learn from them as well. In our company we say "who shares wins," and we mean it in every possible way.
* * *
Key Takeaways:
CEO support. You need the C-suite to be onboard. Culture is a reflection of your company but also your leadership. Everyone has to embody it.
Invest. Not just money, although that definitely helps. But time. You need to take the time to establish it and develop it.
Work. You have to do the work. Make the plan.
Implement. You have to have people assigned to making sure that what you plan isn't just lip service.
Temperature Check. Make sure that your team members are still feeling aligned with what the values are. They are flexible which means that as you temperature check your team members also make sure that you are noting how the tides change.
Iterate. And when the tides change - iterate. Nothing is set in stone